Unpacking the Latest Innovations in IVF, When it comes to ART, in vitro fertilization (IVF) is one of the most common ways to treat infertility. Infertility treatment in this fashion has grown in popularity among patients and doctors in IVF centers over the past few decades. It is now widely available, and the IVF price in Delhi is low, even in countries with relatively low per capita incomes.
The IVF market in India is expected to increase from its 2018 value of $478.2 million to $1,453.0 million by 2026, representing a CAGR of 14.7%. This shows that the IVF sector in India is on the mend and has a bright future ahead of it. Given its rapid growth, the government has begun offering aid. For example, India's Parliament just passed the Assisted Reproductive Technology (Regulation) Bill, which makes sure fertility treatments are high quality, regulated, and open to the public. This was done to improve the effectiveness and health outcomes of assisted reproductive technology (ART) therapies.
However, the quality, regulation, and openness of fertility treatments are the key challenges in India's existing ART system. They need to be addressed if we want to enhance ART therapies' efficacy and health outcomes. The good news is that cutting-edge IVF technology has solved the issue and is paving the way for higher success rates in IVF treatments, making the dreams of many childless couples come true.
Most people's ideas and perspectives about infertility and reproductive treatments shift with time. While medical professionals typically focus on the needs of a single patient at a time, it can be beneficial to step back and look at the bigger picture every once in a while.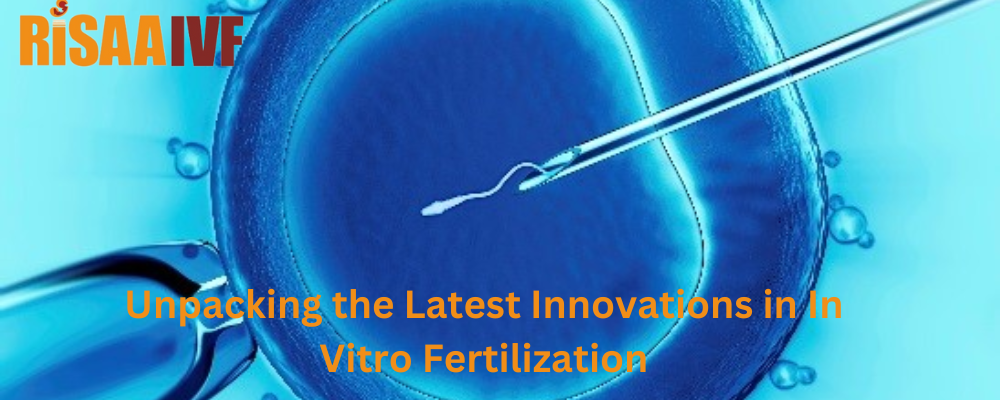 Some recent advances in IVF Treatment (in vitro fertilization) technique are as follows:
Artificial intelligence in vitro fertilization
Artificial intelligence (AI) can potentially increase clinical efficacy and efficiency, improving the course of ART treatment. Presently, embryologists must manually review photos for a predefined set of characteristics. Even a highly trained embryologist has only a finite amount of data, while the AI predictor can draw from a library of at least 100,000 examples. Moreover, unlike human doctors in IVF centers, it can reliably predict the future thanks to its vast expertise. The AI models can then scrutinize the tiniest minutiae, which can elude even the most experienced embryologists.
By incorporating time-lapse imaging (TLI) technology, AI enables ongoing projections from fertilization to the blastocyst stage. The TLI system can automatically recognize, segment, and study embryos at the pixel level as they are imaged at different stages of development.
Stem-cell IVF Treatment
The use of stem cells in treatment is another IVF success story. Most stem cells used in cell therapy come from either bone marrow or adipose tissue. Your doctor will extract healthy stem cells to replace the damaged ones and inject them into your body in IVF centers. To describe their exceptional potential to self-renew and specialize into any form of cell and to adhere to the injured part of the body that needs healing and restoration, scientists use the term "totipotent stem cells." In many medical specialties, this is a hot area for study.
Cryopreservation IVF Treatment
Women today are putting off having kids so they can go to college or advance in their careers. Time will always pass, but assisted reproductive technology gives people a chance to keep their options open and find their own ways to succeed.
Oocyte cryopreservation is a popular way for many women to keep their fertility. In this process, a woman's eggs are taken from her ovaries and frozen without being fertilized so that she can use them later. Cryopreservation is available to women of all reproductive ages, regardless of when they are in their reproductive prime (typically, their 20s or 30s). However, previous years' success with fertilizing and thawing has been, at best, mediocre. 
Various Other Methods Of IVF Treatment
In-Vitro Laser-Assisted Oocyte Fertilization
The most cutting-edge IVF method is laser-aided hatching. The IVF price in Delhi is a cheap procedure that involves breaking through the hard shell of the embryo to put it in the womb. In most cases involving in vitro fertilization, the embryo successfully implants in the uterus.
IVF with oocyte activation
To avoid total fertilization failure in human in vitro fertilization—embryo transfer (IVF—ET) cycles, artificial oocyte activation (AOA) is an effective method. In AOA, a chemical called a calcium ionophore is used to activate the egg and encourage fertilization.
Nanobots and Other Forms of Robotics
Automation made possible by robotics and nanotechnology has made ICSI more effective by making it possible to choose the best sperm or embryo for a given situation and analyze oocyte penetration in real time. When a single, healthy sperm cell is chosen, moved to the egg using nanotechnology, and implanted, a healthy embryo is made in IVF centers.
Changing demographics and cultural views are driving growth in the IVF industry. With the development of ART, the search for treatments that work for all infertile couples has sped up a lot. As a way to deal with stress and problems in society, the IVF price in Delhi and the complexity of therapy have gone down. Researchers are looking into new ways to treat severe male factor infertility and find genetic problems in embryos before they are transferred. The risks of having multiple pregnancies and using stimulated cycles have been nearly removed. Patients must receive the safest possible medical care, especially regarding reproductive services.