It is probably true that in vitro fertilization (IVF) operations have gotten more prevalent and simpler to carry out in comparison to what they were somewhere in the neighborhood of ten years ago thanks to developments in medical research and technology.
During the process of having an embryo created by in vitro fertilization (IVF), there are some things that should and should not be done. After providing IVF and ICSI center treatments in Aurangabad and presenting a large number of couples with a new little bundle of joy in their arms, it is our responsibility to educate our patients on the various options available to them. Let's get started straight away: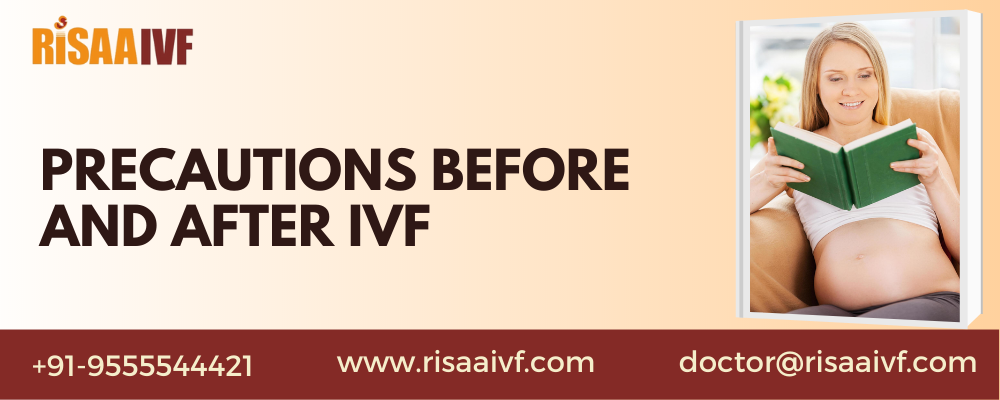 Before IVF
You have made a significant choice by deciding to undergo in vitro fertilization (IVF), and in the first place, please accept our best wishes. The vast majority of patients are grossly uninformed about the precautions that need to be implemented before performing IVF due to the existence of information sources that are highly deceptive. In all likelihood, your fertility specialist will take excellent care of both your health and your therapy, and all you will need to do is make sure to adhere to whatever instructions they provide you. A professional linked with the Risaa IVF international fertility center suggests that in addition to this, you can always engage in the following practices in order to prepare yourself well for the surgery.
Remain calm:
We understand that you would be feeling nervous filled moments, but it is not going to help anyway. Instead, you should try meditating so that you can calm your anxiety and get yourself ready for the big day.
Nutrition;
Maintaining a healthy diet is one of the best things you can do for your body. It is always a good idea to stay away from unhealthy meals, alcoholic beverages, and cigarettes. Instead, discuss the food plan with your gynecologist, and don't forget to inquire about whether or not you should be taking folic acid supplements.
Meds:
In order to get your body ready for the surgery, the fertility specialist who is treating you would have prescribed you several drugs. You should never, ever skip doses of any medications, and if you find that taking any of these medications causes you discomfort, talk to your doctor about finding an alternative.
Stay fit:
In order to maintain a lighter tone in your body, you should absolutely go for walks around the park and engage in some mild exercise.
After IVF:
The golden guideline always emphasizes only one issue – strictly obey the instruction of your reproductive professional. Remember, your doctor would not have prescribed or suggested special instructions without any logical cause. Hence, come what may, without talking with your doctor, do not depart from the suggested practises. It is very normal for you to experience anxiety in the aftermath of the embryo transfer over the subsequent two weeks. But remember, although it everything depends now on the nature, you can surely contribute towards producing positive result:
Avoid intense activity as much as you can:
For the next couple of days, you should absolutely refrain from any heavy lifting as well as any physically taxing activities such as running, jogging, or swimming. On the other hand, it is not essential to stay in bed all the time. You always have the option of leading a regular life that is free of any kind of pressure or stress on your body.
Routines in daily life:
Try to avoid getting high, drunk, or hooked on cigarettes. They are quite unlikely to alleviate your worry or increase the likelihood of the in vitro fertilization procedure being successful.
Keep away from sexual activity:
Please refrain from having any sexual encounters till the two week waiting period has passed.
Maintain a positive attitude:
Do not deviate from your regularly scheduled activities. Be who you are, and try to keep a positive attitude at all times by keeping a humor journal, watching comedies online, or reading humorous books. In a nutshell, have a positive mental attitude at all times.
Don't believe rumors:
There is a good chance that people from your workplace and your social circle will offer you comments and advice at some point. Believe us when we say that more than half of them are nothing more than urban legends; for example, having a light cough or moving around too much can cause the embryo to be expelled; spotting signals the completion of the IVF process; and so on. Ignore the advice that you can't avoid, regardless of how well-meaning it is, and just wait for the findings to come out.
If you have been looking for the most effective IVF therapy, your wait is finally over, and your quest has been completed. At RISAA IVF, which is a fertility clinic, you are always free to make an appointment with us for the initial consultation and let us examine the ways in which we, with the assistance of nature and modern medical technology, can assist you in achieving your goal of becoming a parent.