According to the most recent results of the National Family Health Survey, India's total fertility rate (TFR) has been steadily declining over the past few decades and stands at two children at the present time (NFHS). Lower fertility rates may have been the result of population control measures, contraception, delayed first pregnancies, and a diminished desire for future children as well as a delay in having a first pregnancy.
Despite the encouraging news, it is estimated that between 15 and 20 percent of married couples in the country struggle with infertility. In addition to the use of cigarettes and alcohol, a variety of other factors, such as advanced mother and paternal age, genetic predisposition, changes in lifestyle, illnesses, environmental exposure to toxins, early menopause, and ovulation issues, can have an effect on either partner. But because of the development of science and the introduction of advanced reproductive treatments, it is now possible for couples to alleviate their concerns and have healthy pregnancies. IVF treatment is no longer a secretive procedure that is exclusively spoken in hushed tones. This is a significant development. The shift in attitude that it represents about assisted reproductive technologies is demonstrated by its growing acceptance in society.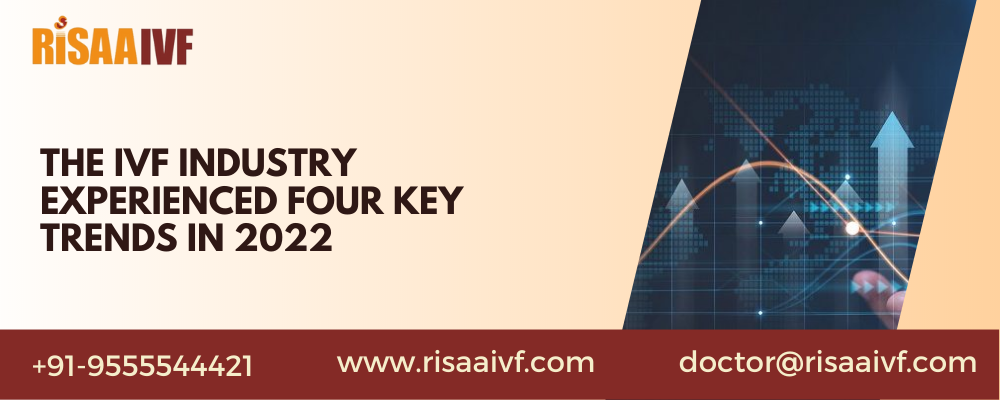 Trends in fertility—current and foreseeable 
In the past year, some distinct trends have emerged as a result of technical advancements and individual preferences. Some that stood noteworthy include:
⇒ Voluntarily transferring one embryo: There has been a rise in the demand for elective single embryo transfers as a result of an increase in the number of couples who have decided against having twins due to the higher costs associated with the upbringing of multiple children as well as the desire to only have one child. In addition, it is not recommended for women of a certain age to consider having twins or more children, which has led to a rise in the number of requests for single embryos to be created.
⇒ Maternal and paternal ages that are advanced: The typical age of patients who opt for in vitro fertilization is getting older. There is a significant uptick in the number of couples who announce their intention to start a family in their late 30s and early 40s. There are many different reasons why couples are delaying conception till later in life. It is possible that this reflects a shift in cultural attitudes toward normalizing the practice of having children at a later age.
⇒ Main role of egg freezing: Egg freezing is becoming an increasingly popular option for women, which may be attributable to social reasons such a scarcity of partners who are suitable with them and a focus on education and career. Damage to both sperm and eggs can be caused by medical conditions such as cancer and the treatments for it. Patients with cancer are opting to have their eggs and sperm frozen rather than destroyed in order to maintain their chances of having children in the future.
⇒ Genetic abnormalities are tested for:Egg freezing is becoming an increasingly popular choice for women, which may be related to social factors including a dearth of potential mates who are compatible with them and an emphasis on education and professional advancement. Both sperm and eggs are susceptible to being harmed when a patient has a disease like cancer or is undergoing therapy for that disease. Patients who have cancer are choosing to have their eggs and sperm frozen rather than having them discarded in order to keep their options open in the event that, In the long run, they make the choice to start a family.
As a side note, now that we have improved results and outcomes, we are in a better position to assist more couples with difficult male issues in achieving their goal of becoming pregnant. Because of the Assisted Reproductive Technology (Regulation) Act, we are now able to engage with many stakeholders using language that is easy to understand. This is important for our business. It is heartening to see progress being made toward greater transparency in the system, which is especially welcome in a sector that is typically mired in secrecy and rumors.
Transparency is the way to go
Even if there were some positive developments in the field of infertility in 2022, many people still find it to be a taboo subject to discuss. As more people become aware of the issue, affected couples must not be shunned. Couples can benefit from immediate involvement and assistance, which will help spread understanding about this "taboo" topic as well as other ones, such as women's health, beginning with close relatives. The tremendous progress that has been made in medical research has made it possible to successfully treat infertility to a significant degree in today's world. Developing a relationship of trust between a couple and their fertility specialist can be accomplished in large part by demonstrating empathy for the couple's predicament.
Please Visit Our Another Page